I am a social media strategist and viral marketing expert specializing in creating trending hashtags in the Events, Music, Nightlife and Entertainment industries.
about my social media journey
I started my social media journey early and it has grown exponentially to over 200,000 people across platforms and increasing daily.
I have been on social media since 2010 but started sponsoring posts for businesses in 2015. I provide event promotion services to different companies big and small.
Since 2017, I started working with companies in the Creative Arts and Entertainment Niches where I use my global network to help those businesses reach people and sell products.
I am currently working with Gura Stores to get people to shop over there.
Here are some of the brands I have worked with to
Let the numbers do the talking
Here is why I should be running your next campaign
"When we started working with Patycope, we saw a massive increase of our social media activity and our account was generating 200 direct messages a day"
I have grown by 42,000 Instagram followers in the past year
The Secret To Instagram Success
Growing an audience no matter where it is can be stressful. You have to consistently post not only good content, but unique content they cannot find elsewhere, otherwise, there is no need to follow you.
So here is some tips for you to grow your page
Patycope Platform Insights
Here is what you should expect for your marketing campaign.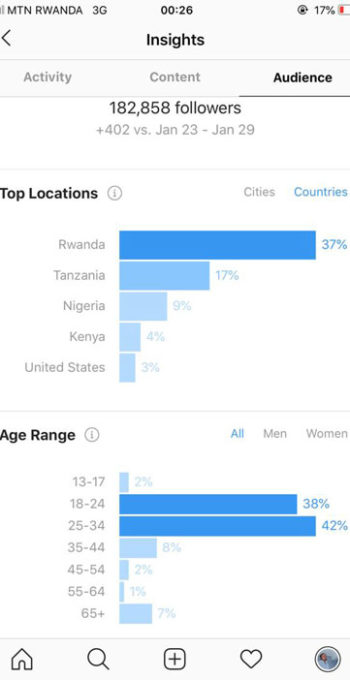 My name is Rukundo Patrick also known as Patycope. I was born in 1990. I currently reside in Kicukiro, Kigali, Rwanda.
Although I share a lot about my daily routine and activities on my social media, my love for beautiful and creative content is nowhere near what can be seen in my Instagram/Twitter/Facebook posts and stories.
I have traveled abroad but my favorite place is still Rwanda.
As seen on TV and Magazines
Some of the publications that have featured me
Follow Me on my Social Media
Come check out how I was able to build my audience through my content