Your online clients love easy mobile access. That's why they have apps like Cash App, Venmo, Messenger, WorldRemit, Wester Union, WeChat,… and others on their phones.
Wouldn't you love to help them buy on your site using these mobile apps? Checkout on WordPress using MOMO?
Introducing MOMO, an Easy Mobile Money Payments wordpress woocommerce add-on plugin solution.
Input your mobile app account handles and let this plugin do the rest for you and your clients.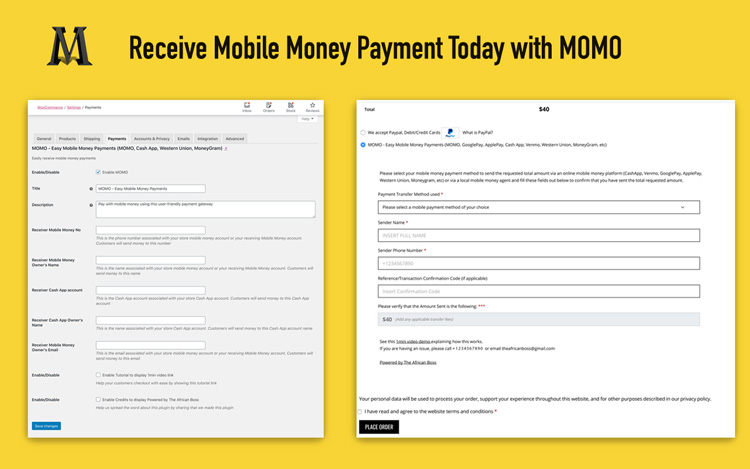 MOMO is a WordPress plugin that helps your customers pay you using mobile wallets money.
Mobile money is any money available in mobile app wallets such as Venmo, Cash App, WorldRemit, Western Union, etc.
MOMO displays your account handles or usernames to people who would like to pay you using their app of choice.
You get notified of the order and the customer sends a confirmation for money sent and all you have to do is confirm that you received the money and provide the services or products ordered.
Upgrade your MOMO Plugin today
MOMO Pro unlocks additional features.
Receive Mobile Payments Easily with MOMO
WORDPRESS WOOCOMMERCE ADD-ON PLUGIN
Hundreds of millions are tuning in online and making payments daily. With MOMO, you will give an opportunity to customers who would like to use mobile wallet payments to purchase from you in the easiest and most user-friendly way possible.