A customer asked me earlier today about Search Engine Optimization (SEO) or how we help websites or content get discovered online. So instead of writing an email back, I decided it would best to write about it so that I can refer future customers as well to this article.
Before we talk about SEO or discoverability, you need to learn how to track whoever finds  you, know where they come from, what pages they land on, what pages they move to and what pages they leave on. Also if you are lucky or working good on your SEO, visitors are using and coming from several different sources, some of which you may not use personally such as visitors coming from different browsers that the one you use. So you should always take into consideration your visibility on each platform. For example, you might think that being discoverable on Google Maps is enough, but what about Apple Maps, Yelp, etc. Same with ranking on Google, but what about your ranking on Bing, DuckDuckGo, Yandex, etc. Or if someone goes to Facebook search, can they find you, well what about on Pinterest or Reddit? And we are not talking about people who type in your name directly in the search bar,  we are talking about someone who discovers you meaning for us, someone looking for web developer in the DFW metroplex in any of the platforms mentioned below. Can you be discovered based on your industry keywords? See there is a lot to think about but as business owner trying to get some basic info on discoverability, we will focus on the major areas of this thing called SEO.
Tracking your visitors comes first
So before we dive into the best practices for discoverability. You need to know how to track your visitors. There are so many tools but the most popular and free are:
The above tools are for basic visitor tracking, you can also engage in Advanced tracking using
– Microsoft Clarity or HotJar– heatmaps of where people are clicking on your site and video recordings of visitors on your site
Your content is not timeless
Tracking will also teach you about the shelf life of content. For example, an image on Facebook might last 1 day then it drops so you would keep sharing it while a video on YouTube might last a month growing. It is very important to know when the drop starts so you can put it all the energy before that happens. But this is not where it ends, you can revisit content and update it every once in a while and put it back in the system. Content updated often will also be suggested better than old content.
Where visitors come from
One more thing you should know is that website traffic sources can be divided into these groups:
Direct: Returning visitors who already know your site and type it directly
Organic: New visitors who find you while looking for something else
Referral: Visitors referred by another platform. Referral traffic from industry leaders will rank you higher really fast
Social: Visitors referred from your social media account or others social media accounts
Paid: Visitors from paid advertising
So starting with direct traffic, this one is straight forward they are not trying to discover you since they already know of your presence. Moving on to organic search, for example a lot of visitors come to our site because they are searching for how to add Venmo or Cash App or Zelle as a payment method on their website. So if anyone around the US where these payment methods are eligible searches for woocommerce cashapp or any similar keywords, they see us first and come here. Or if they are on WordPress marketplace, and search for those keywords they also end up here. And this is what referral traffic is when another site refers people to you. If you are like a store owner for example, being on Amazon or Ebay or Facebook  or any niche marketplaces is always a great way to get discovered and to rank higher.
The most important thing to remember when it comes to referral traffic is that you want to be referred by the right players in your industry not just the biggest. And this goes for social media referrals and influencers.
Speaking of social media traffic, this comes from either you posting about your website or others resharing your content or just sharing about their experience with your business. By the way, did you know that we have a tool that will give you relevant social media content ideas for your industry and social platform, give you image and video templates to turn those ideas into content and allow you to publish or schedule the created content all in minutes? Check it out at Social Cane. See how I use this site to bring traffic to Social Cane. Now that you are seeing me in action, guess what happens after I publish this article. I will go to all social media and reshare it since referral traffic is not enough, you also need that social media traffic.
Anyway, let's move onto paid traffic which is also straight forward. When you advertise, you can add a link to bring people to take an action on your site.
Got discovered? Show them around
Now that you know how to track the visitors and know where they come from, let's dive into the best practices for SEO.
The first thing to know is SEO is about content or listings or products or any of those areas on your platform that you are trying to send people. The more specific the area is the better so for example people who discover you are going to find you based on the one thing they are looking for at the moment. So in our case, someone searching for
how to add Venmo or Cash App or Zelle as a payment method
on their website will land on the plugins or courses pages and go from there. While you should always optimize your homepage, it is best to optimize each of the specific pages you need people to land on. A homepage is like the lobby while each page is like being in the office with the right person. Your visitors would always love to skip the lobby, and go to what they are looking for. But if they land on your homepage, make sure your page is able to guide them easily to where they need to be otherwise they bounce out.
Now that you know what the goal of making content and the types you should create, let's talk about what to put in that content. There are two major things to know about making content:
The content itself is as important as the meta information it goes with. Having the best video ever with a bad/unresearched title/clickbait or caption with bad/unresearched hashtags can be worse than having an average video with a great title/clickbait.
Give your visitors/customers what they need not what you need
Most business owners create things they care about and believe their business or platform is about what they like but NO, it is about what the consumer of that content cares about. SEO is about the consumption of the right content for the consumer of the content. So the first thing to do is
research what your consumers want to know
. Remember when I mentioned that a customer asked me about SEO? That is one way to create meaningful content – research what your customers need from you. The easiest way for this is simply to look at bigger players in your industry and see what content does really well for them and talk about it because if their larger customer base is interested in that piece of content so is a majority of yours as well. Also did I mention that with our app,
Social Cane
, we are working on bringing those relevant ideas for your social media platforms so you can easily create social content your audience cares about. There I go again talking about our app – is what most business owners feel when they have to reshare content all over the place but guess what the average internet user has to hear about something from 7 sources before even thinking of clicking that link. And once they get on that link they spend about 3-5s deciding whether or not to stay. So remember you have to research relevant content and hit it with them from all angles until they 
click that link
.
How to relate to your visitors/readers/listeners/viewers
Now let's dive into how you structure the content. Like see how I have plugged a few links in this article? Well it is not just to advertise. There is a huge reason for this. Search engines like to see that your content is helping your visitors get what they need when they get there. So you should remember to have internal links sending people to other pages on your site and external links sending people to other sites, like having named Yelp, Apple, Google, Microsoft, etc. earlier and linking to them tells search engines that I have researched what I am talking about and I am linking to big players for what this article is about. Also the more names you drop the more familiar people who do not know you feel connected to you. Now you might get the relevance of singers dropping cities names and other famous names in their content/songs. It is so they can connect to people who like so and so or live in that city. People don't know you so if they can find you because they were looking for this other city you mentioned then you are learning what this article is all about.
I mentioned earlier about clickbaits/titles so let's dig into the content structure. Other than the regular content structure like having no more one idea in each paragraph, here are the best practices for each part:
Title, caption, thumbnail and clickbait
People just like search engines start with the text describing the content when looking for your content so your title as the lobby or gatekeeper should be optimized as much as the content. In our case of ranking high for how to add Venmo or Cash App or Zelle as a payment method on their website, our products are called "Checkout with Venmo on Woocommerce" for example. This is a straightforward name, you know what you are getting and it works best for a digital product. But if I write about it in an ad, then the caption would be "See how these businesses like yours are seeing a 40% profit when they allow their customers to checkout with Venmo". When it comes to social media and paid advertising, just being straightforward is not enough, you want to evoke curiosity and emotion hence why clickbaits are a thing. The title or caption is the first thing they see and it is the gatekeeper, make sure they want to click the link after reading it. This also goes for the thumbnail as well.
Metadata are also as important as your content
This is extra information you supply to search engines to know what the content is about. Think of it this way, Google does not read your content. What it does is based on what someone searches for, it returns content with those words in there. Then it can get more complex from there because some people can have misleading titles but what happens is it tracks how long visitors will stay among other factors to determine if the article is relevant for those keywords. So if it is misleading, boring or bad, people bounce out fast and that link gets ranked lower and lower. So your metadata include the slug, hashtags, tags, short description, titles, etc. You can use tools like RankMath or  Yoast for SEO for WordPress users, TubeBuddy for YouTube, Ubersuggest for keyword research, and alternatives to make sure your metadata information competes highly. There is more that can be said here but this article is just an overview to get you thinking. Feel free to checkout what those companies do to dig deep into metadata.
Here is what RankMath says about this article for example: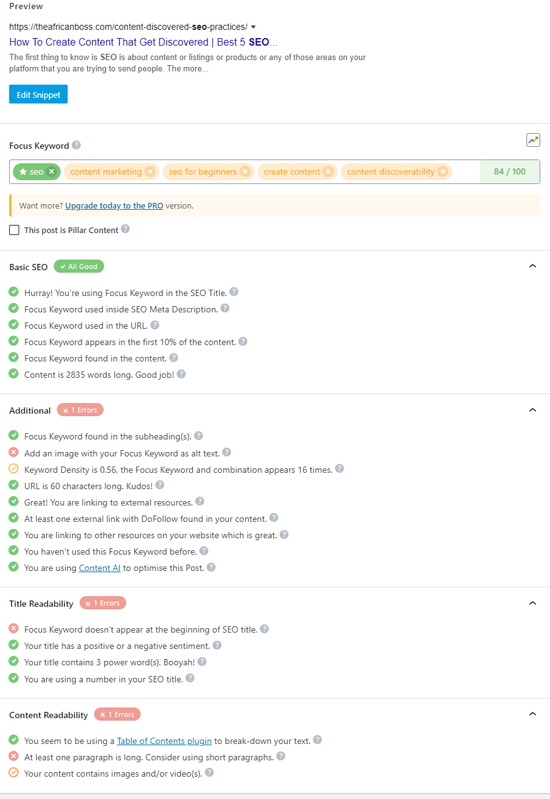 Inside the content
Now that people have read the title and come to your content, the article or video or podcast, etc. should flow like a movie. Catchy at the beginning, build the story to a conflict, then overcome it. Think back to any writing that you did in school where you learned that an essay usually has 3 parts: the intro, the description, the conclusion. Content marketing is also built on that underlying structure. It can also be complex like you need to add a preview before the intro, and the conclusion is where you lead people to the next action.
Some of the best practices inside your content sections of different types of content: images, videos, lists, blockquotes, links, etc. to help drive your point across.
Curiosity drives visitors to go until the end of your content. Boredom will help them bounce. So switch it up. Add an image, a video, list relevant things, add some blockquotes, etc.
This is your stage. Are you going to bore your visitor bounce back after all that work you put in your research and after getting that perfect title that made them click to get here? Entertain them.
How to end your content
Guess what! The end is nothing other than a stepping stone to the next piece of content. Your story doesn't end here. It is time to conclude this chapter while introducing your visitors to the next. Ask yourself why you created the piece of content in the first place. For example, I want my customer to understand what goes behind ranking higher than their competitors on relevant keywords in the easiest way possible. I used examples of our products to give them tangible information that can help them start creating content with the purpose to get it seen.  So it is time for you to go and create content, while following the steps we discussed:
Research your content first and make sure the piece of content you are about to make is what your audience needs
For the ones that discover your content, create an instant connection by talking about things you have in common. Relate to them
Titles or caption or thumbnails are gatekeepers. Optimize them as much as you would optimize the content itself
Once they get inside the gates of content, curiosity and a good flow will keep them to the end
Speaking of the end, it is only the beginning for your next chapter. Use this to drive the point across for why you created the content in the first place
Once your content is created, you need the following streams of traffic redirecting back to it:
Share your content everywhere to get some free traffic going to your content
Referral traffic from the right players in your industry goes a really long way in establishing your authority
Boosting your content with paid advertising will help you reach a larger targeted audience which can drive your ranks higher if the audience is consuming your content enough
Remember about the shelf life of the content, different content on different platforms last different times and put your energy in putting it out there before the drop starts but revisit your content in the future and update it
What is next? There are two things you can do: take this information and start creating better content with intent starting today or hire an expert who will take into account all this information while creating your next piece of content. Nowadays you also have another option of copywriting AI that will write blogs for you.
The internet is your stage, it is your time to perform
If you are looking for a content marketing expert, here are the SEO content marketing services we offer that help discoverability. They include social media content creation, writing articles, creating magazines, and making videos as well for your visitors on all platforms. If you would like to get involved in this conversation as well, drop a comment below and tell us ways you are going to be using or that you are currently using to get discovered.