This article provides the text from The Launch – Thank you Magazine
These are the 13 stories of the unsung heroes who were there in the beginning.
Make sure to check out this magazine issue.
TECHNICAL ADVICE
LEANDRE NSENGUMUREMYI
Starting an online company with no website or app coding skills is intimidating. You have two choices to make: either you hire people to do it for you for a high amount of money or take a great amount of time learning to code. These were the choices I had in October before talking to Leandre Nsengumuremyi and starting The African Boss.
"You know, there is a third option, and you could have both options in a short amount of time and for free", He said "There are a lot of great resources that will help you learn fast to code and there are online helping communities that will help speed up your learning process and you could have your business running in no time. If you hit a roadblock, I will be there to help you."
And that is how the making of The African Boss started.
Born in Burundi, Nsengumuremyi grew up in a small family alongside his parents and brother, the CEO/Founder of The African Boss. From very young age, he was fascinated with technology and loved electronics. 
"You almost hit me with the car when you sneaked in our car to drive it at 4yrs old." his mother, Marie Josee Hakizimana, said.
In school, Nsengumuremyi always seemed to be the youngest in his class and as such, he learned to outcompete everyone in order to make it to the top. 
Before starting Advanced Level of Secondary school (almost equivalent to high school grade 10), each student in Rwanda, the country where he grew up in, has to select what school path they intend to take. He chose to go study computer sciences at SOS Technical High School. Although his parents did not like the idea initially because first, his parents were moving and did not want to leave their fifteen year old son behind to stay by himself in a different country, and second, at the moment, in the early 2000s, in Rwanda, computers and electronics were new and for a smart young student, other sciences seemed better to pursue, but he made compelling arguments and his parents saw his passion and were supportive of him. And not long after, that passion led to amazing school results, and praises of his programming skills started flowing through.
He soon became one of the best programmers in his class, yet still the youngest. And after high school, he went to India where he currently pursues Computer Engineering and is expected to graduate in 2018.
He has worked on many projects while in high school and college for example he developed in high school a software that helps embassies keep track of citizens passports and notify the embassy when they need to start the renewal process, a smart card that is used to provide secure access to a building for approved personnel while in college, a sports management software system, a college attendance management system to name a few. And he has his eyes on artificial intelligence and is working on a graduation project as of now.
You can follow him on social media.
HARDWARE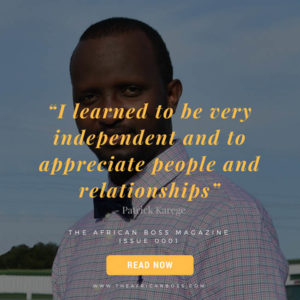 PATRICK KAREGE
When the journey of The African Boss started, I did not have a reliable computer to make it happen. That is where Patrick Karege, roommate of The African Boss CEO/Founder, 's support came in. His computer has been used on most of the projects of The African Boss.
But other than his hospitality and willingness to share and help, Karege spent most of his life in Rwanda and has spent his past five years living in the USA where he has presided on the seat of Rwanda Dallas Youth Diaspora President for the past two years.
"I spend an incredible amount of time hanging out with friends and making new friends.", He said "I love people and invest a lot in networking. Being around people makes me happy. People are always welcome to my home and a lot of different people come through monthly and although we could rent out the guest room, it is much rewarding letting people know they will always have great hospitality and a place to stay when they come home."
Although his past includes traumatic memories, he makes sure to live happy and make other people happy. "You didn't know I do not eat fish? When I was a teenager, I saw a fish eating people that were killed in the genocide and since then, I have never eaten fish."
Spending most of his life without parents because they were killed at a young age did not stop him from moving forward and making sure others are happy no matter the situation. "I learned to be very independent and to appreciate people and relationships. When I first came to the USA, I was welcomed into people's homes and once I got to own my place, I decided to pay it forward. It is very rewarding when someone feels welcomed and comfortable into my home."
Other than being welcoming, he also likes to travel and wants to take an adventure to Europe and visit Rwanda and more places. He loves his country Rwanda and spends most of his time keeping up with everything in the media about Rwanda and sharing passionately his love of his home country.
You can follow him on his social media.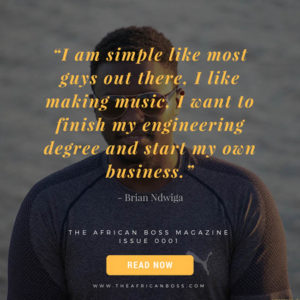 BRIAN NDWIGAH
Since the day I decided to embark on the journey to launch an online company, I have been exploring different paths The African Boss will take. One of the projects underway is The African Boss Apple app. Apple apps are made through Xcode, an app found exclusively in Apple computers. And I happen to have only an old iPhone and no other Apple devices. That is where Brian Ndwigah's hardwares come in. As an owner of an iPad and two Apple computers, Ndwigah provides a way to test if everything is working properly on multiple apple devices and an environment to develop The African Boss app.
But his love of Apple devices is not what defines him because when I asked about who he is, he explained " Who am I?  That's a tough one. When someone asks us who we are we tend to gravitate to our names, statuses and achievements first. It's the logical human approach."
When I moved to Texas in the last half of 2016, I had trouble making a new group of friends and I was glad to meet Brian through a mutual friend and since then, he has been a great and very supportive best friend and yet still humble "I am simple like most guys out there. I love making music. I want to finish my engineering degree and start a business. I have big plans ahead of me this year and have plans to travel the world."
While he is not at school for Engineering, he spends most of his time creating music, making beats, and listening to music but he also misses his past life in Kenya as one of successful violinists in his country where his band performed nationally and internationally in two continents. "I would love to pick up my violin and perform again because it has been a while since I was last on a stage." 
His life in Kenya also brings back a memory of losing his dad young from a car accident but this does not prevent him from networking and making new friends "I enjoy the company of good people." because his compassion spreads through his surrounding "I am compassionate but what matters most to me is living a good life and making the most out of it."
Among his other interests, he loves physics and is very inspired by Elon Musk and follows his companies and achievements closely.
You can subscribe to his youtube channel and follow his social media pages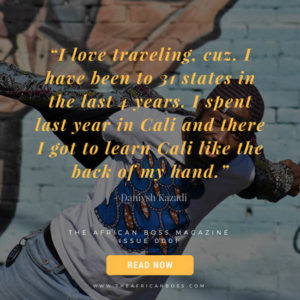 DANIYAH KAZADI
Starting the New Year, I decided to attend the New Year's Eve 250Effect party in Atlanta. So I flew November 30th, 2017. I realized through social media that my cousin, Daniyah Kazadi who goes by Dani for short, was also planning to join the party. And since it had been a year without seeing him, I decided to give him a call as I was leaving the airport that I was coming in town and wished to visit him.
He has been a great host and as I write this, I am using his Samsung tablet because I traveled light and did not expect to be writing on the trip. But his hospitality and sharing are not the only things you will notice about him.
His story starts at a young age where he moved across Rwanda, Burundi, Democratic Republic
 of Congo countries with his family as refugees. And he got to learn four languages and this has helped him in his current job as a medical interpreter for refugees in the USA, where he has been residing for the past five years.
He is an avid traveler and has traveled all across the USA. "I have been to 31 states. I spent last year in California. And there I got to learn California like the back of my hand. It is my favorite state so far and I wish it was affordable to live there." He owns a car and an RV he uses in his adventures. 
"Cuz', I have seen so many things and have learnt a lot these past couple of years. This is gonna be a great year." Kazadi is always enthusiastic and super lively and this can be felt in his music that is hosted on most music platforms (Spotify, Soundcloud, iTunes to name a few).
Other than being an artist, interpreter and very hospitable, he is also a stand up comedian, a poet and an amateur chef and his amazing food have attracted praises from a lot of different people. 
You can follow his social media and his art career.
LISTINGS / DIRECTORY
SAUDA NIYIGENA
CYNTHIA KAGAMBIRWA
SYDNEY SMOOCH
One of the branches of The African Boss is the directory which features African businesses around the world. 500 businesses are to be listed by March 2018 and it will be updated as the year goes on. Sydney Smooch, a talented artist and college student based in Texas, helped provide a business that will be listed.
Other than her willingness to help, Smooch loves different art forms and loves creating art. "When I create art, my mind gets lost in a universe of its own where lives hundreds of ideas, inspiration, and color schemes. I believe this ability to zone out the world stems from my childhood."
Being raised in a family of six, she learned to focus through noises and distractions around herself "I coped with loud noises and an overcrowded living room by zoning out and focusing on my art. Zoning out allows me to be one with my artwork." 
This focus on her work has allowed her to build a large portfolio that includes painting, drawing, ceramics, photography, modeling, henna art, and body painting. "People often classify my art styles as abstract, impressionistic, realistic, and collaborative." When you ask her about her art, she says "My art consists primarily of birds, women, and different mediums."
Although her love for art is immense, she is also interested in traveling while doing more. "One of my short term goals is to be able to travel around the world as I create art which I can sell for a living while growing my art fanbase. And one of my long term goals is to create an app that allows artists, mechanics, electricians, musicians, photographers, models,… to collaborate and improve the modern art industry together. I also wish to be able to generate enough income to create site specific art and performing arts."
She finds modern art to be lacking some crucial aspects that she provides in her own brand, S.A. Smooch, "Everyone just draws and talks about art. Not many make art fun. I wanna make art fun, funny and spunky."
You can follow her social media accounts and follow her art.
MARKETING ADVICE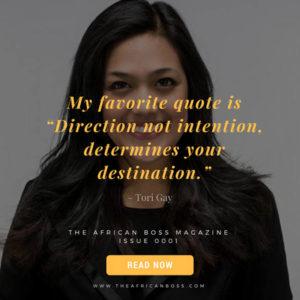 TORI GAY
When I started the idea of a business listings platform, I faced a major problem of how to generate recurrent website traffic. So I decided to create The African Boss Magazine among other products. Although this solution solved one problem, it created another issue. I have never written a magazine until this one. So I started seeking help and Tori Gay let me know some resources that could help fasttrack me to achieve my goal as a writer.
Tori's love for marketing and communications has led her to become the Marketing Manager for Westrock Coffee Company. She is married to Nathan Gay, and they both have Leo and Maya, two dogs. While she grew up in Garland, TX with her parents, a Puerto Rican mother and a Filipino father, her alma mater is Ouachita Baptist University, a small private college in Arkadelphia, AR where she majored in Mass Communications and minored in Business, after which she moved to Little Rock, AR in 2014.
Her love for communications and marketing is fueled by the challenges they come with. "I've always been decisive and I've always been up for a challenge. What drew me to communications was my obsession with efficiency and my admiration for creativity."
Although she admires creativity, she also understands that intention to create is the beginning, but direction is what gets you to the bright light at the end of the tunnel as her favorite quote says "Direction, not intention, determines your destination." – Andy Stanley.
Once she realized her intentions to pursue her dreams, she established a direction for her career. "During college, I completed several internships where I fell in love with what I was getting myself into. So far, I've earned incredible opportunities and I understand now that every move I make can either make a big impact… or it can be 'good enough.' Today, I work for one of the largest independent, fully integrated specialty coffee companies in the world that makes an incredible impact across the globe through its business practices."
Her goal is to work hard enough to one day have a powerful platform to be able to speak LIFE into others about faith, getting real with ourselves, and actually experiencing life (not just waiting for everything ideal to fall into place). "If you're like me and you feel like you were created to create – to communicate hope – or to one day become a master storyteller, you'll never feel satisfied with your work. There will always be a way to improve or evolve. That's a good thing – embrace that. But don't forget your creator (the root of all that drive). Don't move too fast and live out a story that will be worth telling one day."
Her hobbies include cooking, designing, photography, and traveling to name a few. Part of her traveling journey has led her to Rwanda, the country I grew up in. "In 2016, I had the honor of being able to visit Rwanda with the company I work for. The people that I met in Rwanda challenged me to reexamine the way that I work – and why I do it. They are true fighters. They forgive and they rebuild. The thing that I admire the most about Rwanda was the importance of community that is ingrained into the culture. I believe great leaders MUST have incredible people behind them, who refine and strengthen them to later do incredible things."
You can follow her on social media.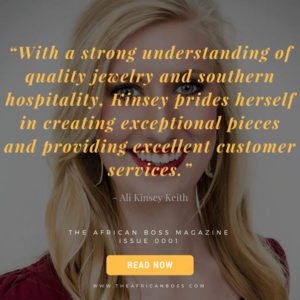 ALI KINSEY
Once I decided to launch The African Boss Magazine, I realized it would eventually become a marketing medium for businesses listed and I would eventually start selling different issues because of the strenuous work that goes in it and the exposure it brings to businesses and individuals. That is how the idea of The African Boss Shop was born. But in this world of e-commerce, it can be so hard to manage an online shop and that is how I reached out to Ali Kinsey.
Kinsey obtained her Bachelor of Arts degree in Business Administration with distinction as a member of the Alpha Chi National Honor Society, a society that limits its membership to the top 10% of an institution's juniors, seniors, and graduate students from all academic discip
lines. She recently married Jared Keith and her hobbies include cheerleading.
Kinsey is not just an excellent student because she also applies what she has learned over time. She is a third generation jewelry designer that grew up in Arkansas surrounded by gems and Hollywood fashion. Her grandmother owned an antique store which became a well-known clothing and jewelry warehouse used by numerous Hollywood costume designers. Kinsey quickly became familiar with all jewelry ranging from 1900's cameos to 1980's broaches and started her handmade jewelry shop, Kinsey Designs.
With a strong understanding of quality jewelry and southern hospitality, Kinsey prides herself on creating exceptional pieces and providing excellent customer service. While Kinsey Designs offers many trendy pieces, the shop also provides pieces that represent a small sense of her vintage roots.
Kinsey Designs is an entirely handmade line, offering quality pieces crafted from gold plated metals and semi-precious stones. Kinsey Designs continuously offers new seasonal products and a wide range of other products locally and internationally.
Visit the shop.
SUPPORT
PROTOGENE NSENGUMUREMYI & MARIE JOSEE HAKIZIMANA
Launching an online startup with little coding experience or starting a magazine with no magazine writing experience requires a lot of help if you want to do it yourself for free or cheap. Support from the people closest to you is imperative because you spend a lot of time brainstorming and wondering causes and effects of every decision you make. My parents, Protogene Nsengumuremyi and Marie Josee Hakizimana, have been very supportive. My dad is reviewing some parts of this magazine while my mom provides a lot of moral support. 
I want to use this time to thank all they have done for me in the past 24 years. 
Since I was little, they have been there for both me and my brother and I am so grateful and very thankful. I cannot imagine where I would be today without them.
Married for over 20 years, Nsengumuremyi and Hakizimana have two sons, Jean Eudes Benecyo and Leandre Nsengumuremyi. They have lived in three countries, and have visited many countries in Africa, America, and Asia combined.
Traveling around the world has provided them with a perspective on life that shaped the world around them. They realized, with each new experience, that life can take different paths and it has prepared them to be more accepting of new opportunities and the uncertainties that come with them.
The past decade has seen Nsengumuremyi go from working for the Ministry of Foreign Affairs to being the first appointed Rwandan diplomat to Nigeria while Hakizimana went from being a single shop business woman to a landlady with multiple estates.
With both their sons living abroad, they spend most of their free time going out networking and making new friends. Their interests include traveling, real estates, volleyball, singing, dancing, and music in general.
"I hope that one day, you, your brother, and your dad can start a family company", she always says, "I really want all of you united, loving each other and working together." 
I share her dream and The African Boss has made this dream partially true.
The way I organize my time comes from one of the daily conversations my brother and I had with our father on school holidays after the morning prayer "Write down tasks of the day, and present them to me when I get back from work so we can discuss your completion progress." I was not a great fan of this when I was little but now, I have realized how it has helped me make better timelines and how it improves the way I brainstorm ideas. This experience taught me from  a young age that no days should be wasted. Engage in activities you can discuss about proudly. Make a difference daily.
This sense of purpose is what I want for everyone of you that reads or follows The African Boss. And like my family always say "You are responsible for your brother and your family now that you are an adult." I want to help inspire many to become their own bosses.
YVES & VIOLETTE
Life is unpredictable and you should always treat each new person who walks in your life with respect and care. A year ago, I met a wonderful couple of Violette and Yves Claude Dusabimana. Although they are people I have known for the least amount of time compared to everyone else featured in this magazine, our friendship has grown tremendously since I met them. They came to me, asked if they could help out with The African Boss and presented a plan of action. They have been there since the official launch of the company and keep up with the progress.
Married a couple of months ago, Violette and Yves Claude Dusabimana live in Texas, USA. Yves, an entrepreneur in the transport of goods industry, has lived in the USA for the past five years while his wife has joined him here in the last couple of months.
Being in the transport of goods industry has helped Yves learn about how to run business across cities and how new markets get acquired around the country, something that is beneficial to The African Boss because it is part of its mission.
Before traveling to the USA, they spent most of their lives in Rwanda where they lived in close proximity and were close since their childhood.
Their other interests include traveling, watching shows, movies and business shows (Sharktank,…), playing or watching sports (mainly basketball, soccer).